Products
Financial calculators can greatly enhance the user experience on your web site. Consumer studies have shown that financial calculators rank as one of the most helpful tools in the financial decision-making process. With our unique XML web service design you have control over the data and can choose to leverage the financial information provided by end-users into lead opportunities, market segmentation and product promotion.
In addition to our vast library of off-the-shelf calculators, we specialize in creating customized solutions to meet your specific requirements. You think it, we'll build it!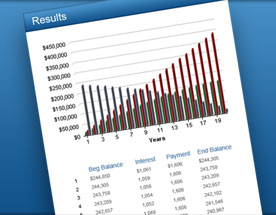 Consumer Calculators
We offer over 130 financial calculators spanning 13 categories: auto, cash flow, college, credit, home and mortgage, taxation, insurance, paycheck and benefits, qualified plans, retirement, savings, investments and business. You may purchase calculators by category or in bundles of 10 across categories (without google ads). Multi-category discounts apply when purchasing multiple categories of calculator or when purchasing the comprehensive set.
English calculators
Spanish calculators
International calculators
Consumer Calculators Integrated With Email Marketing System
CalcXML would like to announce a new strategic alliance with DocuMatix – the premier provider of email marketing tools (click here for press release). The new joint product, available for financial institutions, is called Emails On Demand™ (EOD) and is equipped and tightly-integrated with our complete set of online calculators (130+). Now you can capture and cultivate leads from your calc users. For instance, if an individual visits your web site and uses a Home Mortgage calculator and they "opt-in" to receive information then EOD will place them in a Marketing Path™ that you have predesigned relating to Home Mortgages. If they use a Credit Card calculator then a Marketing Path™ geared towards cross-selling your credit card solutions can trigger an email to be sent to them. In short, by combining the power of financial calculators and the power of email marketing, EOD allows you to market to the web visitor right when they are in the market for a particular product or service. Comprehensive reporting allows you to see how users are traveling through the Marketing Paths and help track your IRR.
EOD is a "trigger-based email marketing system" that is driven by user behavior. Possible triggers include a consumer calling the financial institution, closing a loan, opening a new account, running a calculator or filling out a Web Form. Once a trigger takes place EOD will enter the prospect/customer/member into a Marketing Path™ and an initial email will be delivered. Subsequent emails may follow depending on how the user responds to the initial email. It is a completely automated solution. By upgrading to DocuMatix's Product Suite (DPS) you can also integrate Marketing Paths to include Surveys, Polls, Seminar Enrollments, etc.
Click here to see a sample email from a CD Marketing Path
Click here to run a sample EOD-integrated calculator where you can have the calc results sent to your email (active) and "opt-in" to a Marketing Path (not active)
Click here for a "glossy" on the new EOD product
Click here for a "glossy" on DPS

Call today to schedule your demo! This is the marketing wave of the future!
Advisor Calculators
Our Advisor Calculator series of online analytical calculators is composed of over 30 one-page reports designed to quickly answer financial questions posed by clients and prospects.
These one-page PDF reports offer professional, presentation quality output which can be given to clients as part of the planning process. The reports, which can also be emailed, can help motivate a client/prospect to take action, answer pointed financial questions or educate on a specific financial topic. Incorporating the prospect/client and advisor name with appropriate company disclosures, they are a great supplement to your comprehensive planning system and can easily be implemented on a company extranet site or agent login area.
English advisor calculators
Spanish advisor calculators
Custom Calculators
Over the years we have built numerous calculators to meet specific client needs. With our in-house financial experts we can readily understand your objectives and build to suit.
Samples
Intermountain Health Care, a large health care provider in Utah with over 30,000 employees, commissioned CalcXML to build "custom" calculators to help employees understand their specific retirement and paycheck benefits. The first, a Flash-based "Total Retirement Calculator", incorporates company-specific pension plan benefits and 401(k) matching schedules to help employees determine how long their current savings will last and what additional contributions should be made in order to meet their retirement goals. The second calculator "Paycheck Planner Plus" illustrates the take-home pay impact of increased 401(k)/403(b)/457 contributions along with warnings if ill-timed contributions cause the employee to miss-out on employer matching contributions.

Click to view implementation (Custom Flash Calculator)
Click to view implementation (Custom Calculator)

Plante Moran Financial Advisors needed a "back-office" tool that their reps could use to help sell college savings plans. After entering client/prospect data, the financial advisors simply click Submit to get a two-page professional PDF report.

Click to view implementation (Custom Calculator)
Financial Articles
With a library of hundreds and hundreds of interactive NASD/FINRA compliant financial articles integrated with thousands of useful glossary terms, we can add compelling content to your web site. These calc-related articles will educate your web visitors and help sell the products and services you offer. Choose from a ready-made database of hundreds of articles spanning a dozen financial categories: cash flow, college, credit, home and mortgage, taxation, insurance, paycheck and benefits, qualified plans, retirement, savings, investments and business.
Samples
HelpMeFinancial.com See "Learning Center" from top menu.

Blogger Tools, Teaser Calculators And Mobile Devices
Our entire suite of intuitive and user-friendly calculators are available in compact form, making them perfect for:
- Bloggers to include in their web log posts
- Web site home pages as "teasers"
- Mobile devices, PDAs, etc.

Click here for a complete listing.
National Average Data Services
The data we collect are simply the values entered into our calculators. There are no personal security issues because there is no personal data entered into the calculators - just amounts, interest rates, etc.
We've compiled the input data from tens of thousands of calculator runs per day from across the entire country and now offer you access to it. Average values are available for any of our calculators over a date range that you specify. You can also select the statistics that you want from our comprehensive listing, again with the ability to specify a date range.
Useful for:
- Web sites
- Research
- Articles
- Sales
- Advertising

The statistics we offer "off-the-shelf" are pre-selected by our expert analysts. However, if there are other statistics you would like, or if you'd like to "slice and dice" the data differently, we can offer you direct access to the database as well.