About Us
Our management and development team represent over 30 years of financial and web development experience. We are committed to providing the best customer support in the industry and doing whatever it takes to complete your specific project on-time and under budget. But don't take our word for it, we would be happy to provide customer referrals and sample implementations upon request.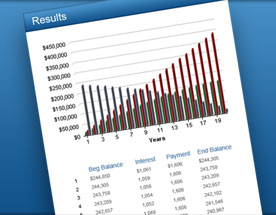 Contact Information
Mailing Address:
CalcXML
PO Box 1541
Salt Lake City, UT 84065

Phone:
(801) 967-3024
Fax:
(801) 967-3033
Sales:
Email sales(at)calcxml.com
We typically license calculator tools to medium and large financial institutions. They are advertisement-free and branded to match the look-and-feel of the company web site. LOW traffic pricing starting at $995 per year.
Smaller financial firms with limited budget and programming resources – such as an independent realtor, broker, lender or financial advisor – can implement our FREE calculators which are hosted by CalcXML. Our sample calculators can be used free of charge on your web site. The complete listing can be found here. Simply drop the hyperlinks on your web site for whichever calculators you would like to use. Another free option are our small-footprint "teaser" calcs. Simply copy and paste the html "embed" code for the desired calculator(s) into your web site. The code can be found here.
Support:
Email support(at)calcxml.com